As I write, the deadline for the Refashioners 2016 is fewer than 3 hours away. I feel like I'm bashing out this post like a last-minute essay – J's teasing me for being such an arts student, always fired up by the pressure of a looming deadline. But you know what? I finished my entry a few hours ago. Finished with hours to spare? That's an achievement in my book.
To be honest though, I'd sort of left it this late on purpose. I LOVED last year's Refashioners challenge and it got me absolutely hooked on the whole refashioning business. I refashioned 4 shirts for that contest; since then I've turned 3 pairs of jeans into a comprehensive tool storage solution, two old dresses into children's clothes for charity, a man's shirt into an off-the-shoulder top and a Japanese kimono into a wrap dress. But the subject of this year's challenge, jeans, had me rather panicked. Firstly, the last and only time I'd brought my trusty old Brother into contact with denim it had had a meltdown and required emergency treatment for a serious tension ailment. Secondly, my formative years involved some slightly dubious trends in denim, trends I was loathe to revisit…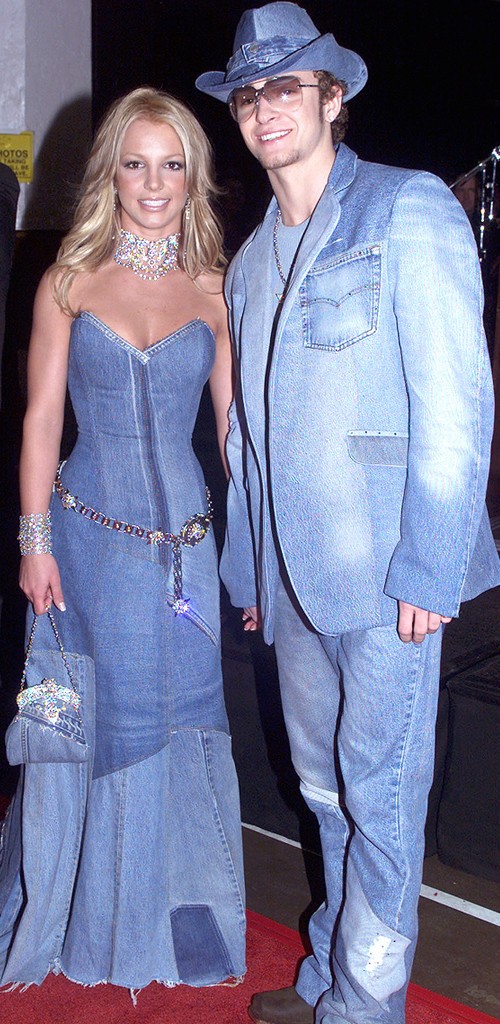 So, yeah. I felt pretty daunted.
But hell, I love refashioning, and I wanted again to be part of an fantastically fun community challenge. I mean, the worst that could happen would be ending up looking like the fifth member of B*witched two decades too late, with a broken sewing machine. No biggie.
I was really taken by a fitted denim shirt-dress worn by Alexa Chung (actually, any denim worn by Alexa Chung) and decided that was my route. As I've mentioned before here, I love my refashions to include a nod to their original state, and thus I wanted to use the jeans, not just the denim. At the same time I really wanted to make something I would wear and wear, even if it meant making something too simple to wow and win. So I scoured the local charity shops for three pairs of jeans in a matching shade of dark denim. Amazingly, I managed to find two similar pairs of ladies flares that offered beautiful fabric with slight stretch, and the flare lines were exactly in keeping with the A-line look I was aiming for. I purchased a third pair, these ones men's, just in case.

Using my sloper I drafted the dress pattern myself, with princess seams from the shoulder and a button band down the centre front. 8 panels – 1 for each trouser leg half from my 2 pairs! I allowed a decent amount of ease as I want to be able to wear layers underneath the dress this winter. The length of the flares from pockets to hem was just long enough to fit my short body – thank you, tall people! And so I was able to use the original hems. The really pleasing part was how the marks on the denim (slight lines for the backs of the knees, fading on the front of the thighs) could be incorporated into the design of the dress – the knee lines now sit across the centre-back waist and the lighter shading down the side panels for a (hopefully!) slimming effect.
I also used the original waistband off one pair as my top button band. It was tricky because the band had a slight curve, but I put an invisible nick in the shorter edge and stretched it whilst top-stitching so now it sits straight. The under button band uses leftover denim from one of the pairs of flares – using the other waistband would have been too bulky. My buttonhole foot couldn't cope with the bulk as it was, so the buttonholes were done with bar tacks. I managed to get a whole pack of old Jigsaw jeans buttons in a bargain bin at the Tooting Craft Superstore. Oh, and I shaved down the pockets off one pair of jeans and assigned them a new home on the bust of the dress…
I then top-stitched each of the princess seams, on both sides, because brassy top-stitching is such an intrinsic feature of classic jeans I wanted to echo it here. Ditto with the bias-binding-finished armholes and collar. The collar is actually the only part which comes from that pair of men's jeans. Which means leftover denim. Which means… more refashioning!
Then came the really fun part, the embroidery! I was so inspired by images across Pinterest of embroidered jeans and jackets – flowers, skulls, slogans – all in glorious bold colour leaping off the denim. (It's funny, isn't it, how denim acts as a neutral against all other colours? A pair of blue cotton trousers simply wouldn't work the same way.) Anyway, I tried satin stitch for the first time, only stitched through my finger once and am seriously proud of the result. I made up the design as I went along, adding in more and more flowers until it seemed finished.
And then I did the front.
It was actually a good thing I only had a few hours left to enter the dress, or else I think I would never have stopped embroidering. Anyway, finished it is, and I'm very much looking forward to wearing it. Once again, I've loved taking part, loved seeing everyone else's wonderful makes and loved being stretched – new fabric, new skills and techniques. My machine did a stellar job with the denim and now I feel fired up to go away and refashion myself some dungarees, denim pinafores, denim shorts, denim shoes… x